2. Optical Power Measurement
When the fiber optic has been successfully connected and checked by an OTDR measurement, the signal wiring of the fiber continues. To measure the incoming or outgoing signal, you need an optical power meter (OLP).
OLPs
MP-80 USB stick: For PON measurements
OLP-88P: Power level meter with G-PON data analysis
OLP-38: Inexpensive and compact optical power meter
Light source
OLS-38: Singlemode source with 3 wavelengths (1310 nm, 1550 nm and 1625 nm)

Measuring Kit
OMK-38: Set consisting of OLP-38 and OLS-38

VIAVI MP-80 optical power meter via USB
The MP-80 is a very compact optical power meter in the form of a USB stick suitable for use with a notebook, mobile devices or other VIAVI products (SmartOTDR, MTS-2000, ONX-630).

Measurements in dB, mW and dBm
Can be used for single-mode and multi-mode applications
Automatic data recording
Automatic wavelength detection
USB Type: USB 2. 0
Measurement range: -50 to +26 dBm
Weight: 14 g
Dimensions: 86 x 25 x 19 mm
---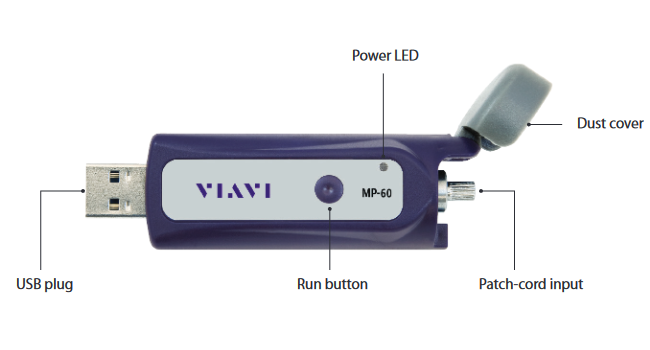 MP-80
---
VIAVI OLP-88P - TruePON Tester
VIAVI's OLP-88P is suitable for GPON acceptance measurements and thus simplifies the implementation of PON services. The user is guided through the measurement process and can therefore quickly isolate errors and reactivate the service quickly.

GPON ONT activation process
Detection of faulty ONTs or third-party devices
Up to 10,000 test results can be saved
With patch cord microscope
Compatible with the P5000i microscope

Interface: 2x USB host, 1x micro USB, Ethernet
Weight: 750 g
Dimensions: 208 x 112 x 64 mm
Display: 3.5 inch color LCD touchscreen
Battery: Li-Ion battery for more than 12 hours of operation
Next page: 3. Optical Power Measurement Continued
OLP-88P
---