FUJIKURA
90S+
Core Alignement Fusion Splicer
 
The 90S+ is packed with a whole host of new and improved features that have been specifically designed to enable the user to work faster and more accurately. The total time of the splicing process has been significantly reduced compared to our previous model (70S+). This was achieved through a combination of the improved response time of the automated wind protectors and automated heating, new fiber retention clamps, improved universal sheath clamps and a redesigned internal structure that adapts the protective cover to the fusion splice point so that the user no longer has to touch the 90S+ as soon as it is the process has started.

---
---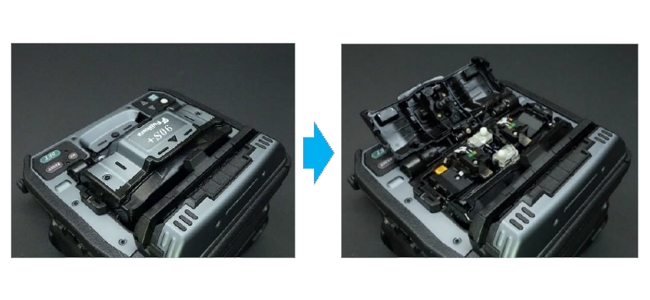 Automatic open-close wind protector
---
Active Fusion Control
The 90S+ uses real-time fusion parameter control by analyzing the brightness intensity of the fiber during the fusion process.
Depending on the fiber type, the optimal splicing parameters are used automatically.
The condition of the two end faces is analyzed and an optimal fusion control is carried out. This significantly reduces the splice loss and reduces the risk of a new installation.
Active Blade Management
The 90S+ and the Fiber Cleaver CT50 are equipped with wireless data connectivity. This capability enables automatic cleaver blade adjustment if the 90S + detects that the blade is worn. The splicer can be connected to two CT50s at the same time.
The remaining blade life is displayed and the user is informed when a change in height, position or a new blade is required.
The new functions enable the 90S+ to reduce the operating time by 50% compared to the previous model!
User friendly work station
---