Harmonic
ProStream X
High-Performance Video Processor and Gateway
The ProStream X is a platform for video stream processing which provides a huge amount of functions to cover needs various areas (Broadcast, Cable, IPTV, OTT and others).

Features

Multiplexing and scrambling of up to 2,000 simultaneous broadcast services
High-throughput 10Gbps video gateway
Advanced multiplexing of any service from any input to any output
Target Average Bitrate
DataTrack
IP networking and mirroring
DiviTrack IP statistical multiplexing with remote distributed encoders
Live-to-live splicing for MPEG-2, MPEG-4 AVC, and HEVC video streams
DVB CSA3, DVB CSA2, and AES scrambling
Slate insertion for service disruption messages
Emergency Alert System (EAS) compliance including SCTE-18 Trigger
---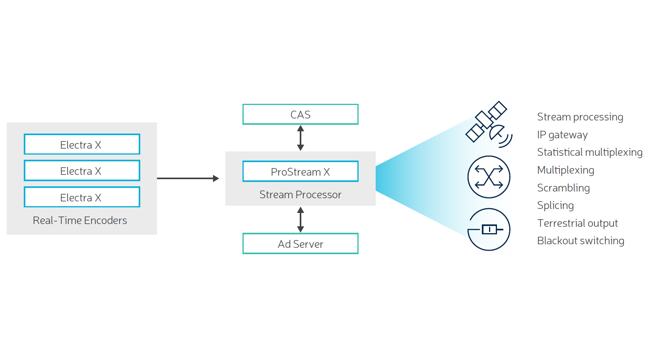 ProStream X - The Heart of the Headend
---
The ProStream X runs on a COTS Intel Server (1-RU) and provides in
combination with the Harmonic Electra X2 an advanced solution for
encoding and distributing of superior-quality IP and ASI video streams.

This high-density architecture reduces the amount of rack space required to meet fluctuating stream processing requirements, helping operators reduce CAPEX and OPEX.

SD, HD and UHD formats, and MPEG-2, MPEG-4 AVC and HEVC codecs are all supported on ProStream X.
---