TECHNICOLOR
CGA4236
Access Cable Gateway Marlin L with WiFi 6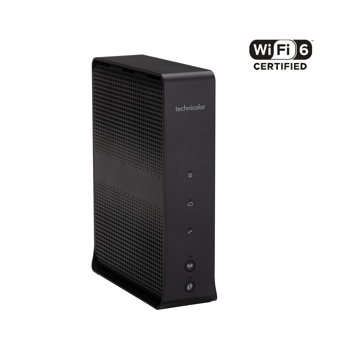 Highest Performance with DOCSIS 3.1
The CGA4236 cable gateway is fully compliant with the latest DOCSIS 3.1 specification as published by CableLabs and is capable of delivering downstream cable speeds of up to 3.6 Gbps by using 2 Orthogonal Frequency-Division Multiplexing (OFDM) downstream channels (and up to 5 Gbps in case of 2 OFDM plus 32 Single Carrier QAM) and up to 1.5 Gbps upstream by using 2 Orthogonal Frequency-Division Multiple Access (OFDMA) upstream channels.

This allows cable operators to propose multi-Gigabit data services to their customers through various applications, from IP connectivity to ultra-high speed internet access and gaming.

The MARLIN L CGA4236 offers triple-play services beyond Gigabit speeds, while providing VoIP functions for residential and business users. It is equipped with the latest Wi-Fi 6 technology, allowing for faster throughputs, better performance in dense multi-user environments and saving battery lifetime of the connected devices.

The CGA4236 has been designed to cover all regional requirements for Europe, Latin America and North America.

Wi-Fi 6 Technology
Wi-Fi 6 – a stronger and more performing wireless connectivity – is a major evolution that improves gigabit-services delivery through providing reliable connections to a large number of devices in several ways.

This evolution is intended for both 2.4 and 5 GHz, making Wi-Fi 6 the first major upgrade for Wi-Fi at 2.4 GHz since Wi-Fi 4 in 2009. While it keeps the data rate the same as Wi-Fi 5, Wi-Fi 6 increases signal robustness to accommodate more devices and allow better sharing of the wireless channel.
Features
2 x 2 OFDM(A) bonded Channels in DOCSIS 3.1 Mode
32 x 8 bonded Channels in DOCSIS/EuroDOCSIS 3.0 Mode
DOCSIS 3.1 compliant
Dual-band concurrent WiFi (with high Power optional)
2.4 GHz (3x3) WiFi 6 (IEEE 802.11ax)
5 GHz (4x4) WiFi 6 (IEEE 802.11ax)
4 GE LAN Ports (1 2.5 Gigabit Ethernet and 3 GE LAN Ports optional)
2 FXS Ports for Phone or Fax
1 superspeed USB 3.1 Gen 1 Master Port
Backward compatible with DOCSIS/EuroDOCSIS 3.0
Automatic switchable Diplexer for Up- and Downstream
Up to 1.2 GHz full Band Capture Tuner
Built in RF Spectrum Analyzer
Enabled to support wireless XL (sold separately)
Hotspot GRE, Passpoint
Voice (Euro)PacketCable 2.0 & 1.5 and SIP compliant
MoCA 2.0 (optional)
Future-proof Added Value Services Platform supporting Technicolor RDK-B (Reference Design Kit - for Broadband)
SNMP and TR-069 remote Management
Dual Stack IPv4 and IPv6 DS-Lite enabled
Managed external Battery Backup Unit (optional)
Power Supply