ARRIS / HARMONIC
PWL42xx
ARRIS PWRLink II High-Density DFB Transmitters
További információ, ajánlat kérése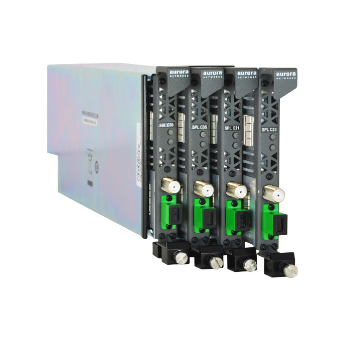 ARRIS HL2 Series PWRLink II PWL4200C 1310-nm DFB laser transmitter modules are designed to meet the needs of today's headends while reparing service providers for the challenges of tomorrow. Featuring high density, low power consumption and ease of use, the transmitters optimize network bandwidth while reducing headend footprint and lowering operational expenses.
Features
Compact size enables 20 DFB modules to fit in a 3-RU platform

Dual ports: one broadcast, one narrowcast

Blind-mate RF connectors for streamlined module insertion and removal

1.2 GHz RF provides the capacity to resolve future bandwidth issues

Advanced predistortion circuitry and algorithms for both CTB and CSO provide distortion cancellation over a wide temperature range

Microprocessor control of all key parameters optimizes product performance and monitoring

Reduced power consumption lowers operating costs

Flexible monitoring and control via HTTP web GUI or SNMP




Versions:PWL42xxC
Channel loading: 41 unmodulated Cenelec channels, 119-855 MHz with 56 QAM 256 (87-847 MHz) channel at -6 dBc
PWL42xxS

Channel loading: 78 unmodulated System M (NTSC) channels, 55-550 MHz with 75 QAM 256 (55-1003 MHz) channel at -6 dBc.