ELECARD
Boro
IPTV Monitoring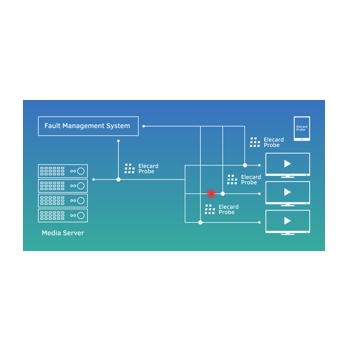 Elecard Boro software probes monitor packet loss, video freeze, SCTE35 labels for UDP/HLS/DASH/RTP/HTTP. The solution provides fast and cost-effective monitoring of content delivery networks and ensures localization of the most common violations. Boro is a client-server application consisting of 2 parts: a software Boro probe and a Boro server designed to collect and process statistics.
How it works

Boro probes are distributed over the network: at the head-end station, at input streams monitoring points and after transcoding, multiplexing and encrypting modules; at end-points of main delivery networks, signal distribution points and last mile locations.
The user starts the probe in the monitoring point. Tasks for analysis are assigned to the probe in the dashboard of the Boro account. Boro probe detects violations in the stream and transfers the detailed statistical information to Elecard Boro server.
The server aggregates the received data, provides reports in easy-to-understand graphic form for each segment of the network in the web browser, and ensures fast email notification about network violations.
Manage probes remotely
Create the projects and share access
Start several probes in one project
Configure tasks for each probe (monitoring settings for each video stream)
Check probe resources (RAM/CPU/HDD/Network)
Set the project notifications of different types: Visual, Email, SNMP, Webhook, PagerDuty, Telegram
Create several notification profiles for each notification type
Manage and restart tasks
Check statistics

Check statistics on all probes and tasks of the projects
Mosaic View to check the whole network on 1 screen
Display of streams state summary (input stream bit rates, PID bit rate, etc.) in graphic form
Check statistics on each task: Detailed display of all parameters and metrics for each video stream, video thumbnails
Detection of ad insertion tags in transport streams and playlists
Export of Alarm Journal report in CSV format
Video recording of IPTV and OTT and possibility to download video records from remote probes to the user's browser using WebRTC technology