3. Optical Power Measurement Continued
VIAVI OLP-38 Optical Power Meter
The optical power meters of the OLP-3x product family allow the power level and attenuation in fiber optic networks to be measured quickly and easily.

Cost-efficient and robust device
Individually adjustable wavelength in 1 nm steps
Calibration interval of 3 years
Universal wavelength adjustment
Universal optical interface for all 2.5 mm / 1.25 mm connectors
Auto-detection and TwinTest Mode
Internal data storage and PC download
Micro USB interface for power supply and data transfer

Wavelength range: 780 to 1650 nm
Calibrated wavelengths: 850, 980, 1310, 1490, 1550, 1625 nm
Power range: -50 to +26 dBm
Display range: -50 to +26 dBm
Weight: 200 g
Dimensions: 30 x 80 x 150 mm
Recommended calibration interval: 3 years
Dry batteries: 2 x Mignon (AA), 1.5 V
Rechargeable batteries: 2 x Mignon (AA), NiMH, 1.2 V
Battery operation: > 200 h, automatic switch-off after 20 min
---
OLP-38
---
VIAVI OLS-38 optical source
The OLS-38 is a single-mode source with three wavelengths on one port for testing optical networks at 1310/1550 nm and 1625 nm.

Inexpensive, robust and compact optical source.
Switchable optical adapters available for maximum flexibility.
Auto-Lambda and TwinTest transmission mode.
3-year calibration interval.
Fiber type: SM (9/125 ?m)
Type of optical interface: PC / one connection for all wavelengths
Center wavelength: 1310 nm (± 20 nm), 1550 nm (± 20 nm), 1625 nm (± 3 nm)
Output power: -7 dBm
Power supply: 2 x AA, 1.5 V dry batteries
Rechargeable Batteries: 2 x AA, NiMH, 1.2 V
AC operation: via micro USB and SNT-505
Battery life (CW) typical: 80 h (SM)
Dimensions: 30 x 80 x 150 mm
Weight: 200 g
VIAVI OMK-38 Optical Test Kit
The test kit is equipped with an optical power level meter and an optical source to measure the power level and the insertion loss as well as to carry out continuity tests.
Next page: 4. OTDR Measurement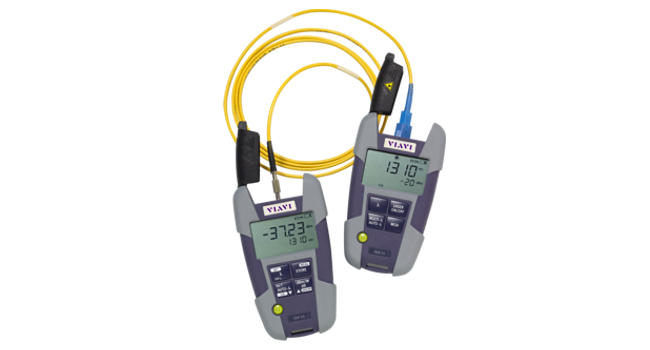 OMK-38 consisting of OLP-38 and OLS-38
---